Alberta Jay was an actress who made at least 3 appearances on M*A*S*H. Unfortunately she had a short screen career and very little is known about her. Her IMDB page lists only two credited appearances on M*A*S*H and nothing else.
Alberta Jay's appearances on M*A*S*H
Edit
Jay's first credited appearance on M*A*S*H was in the Season 3 episode "Iron Guts Kelly" where she was billed as "anesthetist". There is an O.R. scene where Hawkeye is working on a patient with Trapper. Assisting Hawkeye is someone whom he addresses as "Mr Kwang". There is an anesthetist seat at the head of the table and this is the only one seen in the episode so it is most likely Jay but we only ever see the back of her head.
Jay's next credit comes 8 seasons later in Season 11 "Give and Take" where she is billed as "Nurse". Here we get the only foreground shot of her receiving instructions from Margaret in post-op about a patient.
Jay also makes an uncredited appearance in the final scene to be shot for the whole M*A*S*H series, the time capsule burying scene of Season 11 "As Time Goes By". A call sheet for this scene, the last call sheet for the series lists required nurse extras by name: Kellye Nakahara, Farrell (didn't specify which one but both Gwen and Judy can be seen in the scene), Shari Saba, Jennifer Davis and Alberta Jay.[1]
All the other extras playing nurses to be included in this scene were long-standing "old faithfuls" such as Kellye Nakahara, Jennifer Davis and both Gwen and Judy Farrell. Jan Jorden is not listed in the call sheet but can be seen in the footage. For Jay to be given the honor of appearing in this scene must imply that she had done more for the series than just her two credited appearances. It is likely therefore that she had many more uncredited appearances over a long period of time which have not been identified.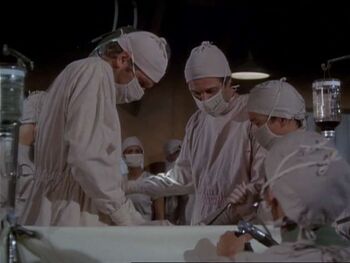 References
Edit
↑ Arlene Alda and Alan Alda, The Last Day of MASH, (Verona, New Jersey: The Unicorn Publishing House, 1983)
Community content is available under
CC-BY-SA
unless otherwise noted.