"Gentleme-e-en.."
(~Charles' signature address to the other officers present before he leaves a room, though he addresses enlisted men by their ranks)
"Charles, you're pompous, arrogant, conceited, and a total bore... But you're all right."
(~Hawkeye to Charles in Major Ego)
Major Charles Emerson Winchester III is a surgeon who was chosen by Colonel Potter to replace the departed Frank Burns as the fourth surgeon at the 4077th MASH unit in Season 6 of the M*A*S*H TV series. Charles was played by David Ogden Stiers.
About Charles
[
]
A descendant of aristocracy, Charles was born in Boston to a very wealthy Republican family and raised in the high-class neighborhood of Beacon Hill. He has a younger sister named Honoria (pronounced ah-NOR-ee-uh) who, known only to Charles, has a speech impediment, and also had a brother named Timmy who died young.
Charles graduated Summa Cum Laude from Harvard Medical School after completing his secondary studies at Choate and began residency at Boston General Hospital. Before he was drafted to join the Army at the start of the Korean War, he was on track to become Chief of Thoracic Surgery.
Like most of the others in camp, particularly B.J. and Klinger, Charles often bemoans being away from home, though he developed a deep affinity for Tokyo, particularly the indigenous cuisine and entertainment, especially Kabuki theater, even though he speaks no Japanese.
Joining the 4077th
[
]
In "Fade Out, Fade In," Major Frank Burns has gone AWOL in Seoul while Margaret is on her honeymoon with her new husband Donald in Tokyo. The 4077th is short handed, and Colonel Potter frantically calls I Corps for a temporary replacement; he eventually gets hold of Lt. Colonel Horace Baldwin at Tokyo General Hospital, who decides to send Charles to the 4077th to avoid paying off his $600 cribbage debt to him. Upon his arrival, Charles immediately deplores the sub-standard living conditions and soon lords his own surgical expertise over the others, particularly Hawkeye and B.J., who quickly develop a dislike for him.
When Frank is finally caught and arrested, he is held for psychiatric evaluation, and then when he is permanently transferred stateside, Potter arranges for Charles' temporary change of duty to become permanent, which Charles strongly resents.
On several occasions, Charles has attempted to get himself transferred out of the 4077th, mostly through pleading with his father through audio recordings to pull some strings to get him out, but also through orchestrating situations in the hope that he will get publicity for his work, and eventually find someone else with enough influence to authorize a transfer, but each attempt failed.
Social Life
[
]
In contrast to the mostly temperate Frank Burns, Charles is a social drinker; his libation of choice is usually wine or cognac, and as such his drinking habit is not quite on the same level as the other surgeons, particularly Hawkeye and B.J. (who often drink martinis, beer, or gin from their still), though on a few occasions Charles does tend to overindulge. One example of this, which overlaps with his affinity for the fairer sex, is in Mr. & Mrs. Who, when a hungover Charles returned to camp with pictures from a wild party in Tokyo during which he drunkenly got married to an unidentifiable woman. The woman, a Red Cross worker named Donna Parker, visits Charles at the 4077th and reveals that the marriage was performed by a hotel bartender; in other words, to Charles' great relief, the two were not actually married.
Charles has a soft spot for women. After his initial arrival at the 4077th, he and Margaret tried to develop a romance, but they both realized there was no chemistry between them and remained friends. In The Grim Reaper, Charles attempted to have an expensive private dinner with her, which resulted in both of them getting food poisoning.
In Ain't Love Grand, a lonely Charles attempts to charm a local doxy and teach her his culture, but the girl is totally uninterested in his lifestyle and eventually moves on from him. Disgruntled and heartbroken, Charles eventually joins the other surgeons for a drink in the Swamp.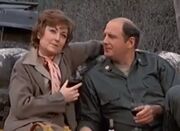 In Foreign Affairs, Charles falls for a visiting French Red Cross volunteer named Martine LeClerc, but when she reveals that she was once a non-conformist (she lived unmarried with another man, and even posed nude for a painting), Charles realized that his family would never accept her, much less her Bohemian past, and sadly ended their relationship.
Through the rest of the series
[
]
Charles was initially standoffish, most notably when he learned he had lost his candidacy for Chief of Thoracic Surgery at Boston General and shut himself off from the rest of the camp until Hawkeye and B.J. pranked him into opening back up. But Charles gradually accepts his situation and settles in at the 4077th. Though his lofty attitude still has a tendency to annoy, he eventually makes peace with his comrades and they count him as a friend and ally.
Charles softens somewhat as he becomes more acclimated to his new life at the 4077th. This comes in part from a Christmas present arranged by Radar and Father Mulcahy— his mother sent him his old tobogganing cap which he wears frequently. However, with his ego remaining fully inflated, he still distances himself from the rest of the camp to some degree and regularly retreats to his classical music as a refuge. As time goes on, he seems to maintain his arrogant attitude as a kind of caricature of itself, a character armor to hide his genuine feelings. In Letters, when a young schoolgirl from Hawkeye's home town sends him a fallen tree leaf, Charles quietly reveals his deep longing for home.
A running gag is Winchester's efforts to maintain his upper class lifestyle while in camp, such as playing classical records on his portable phonograph (which everyone else hates), hoarding high-quality foods for himself, smoking cigars and drinking cognac or going quail hunting with a shotgun (Dear Uncle Abdul) which results in his quarry getting blown up when it falls on a land mine. In Baby, It's Cold Outside, Charles receives a polar suit from his parents that he flaunts in front of the others, though he loses it just three episodes later (Out Of Gas) when his attempts to haggle with a group of Black Marketers fails.
Although his stoic persona is a cover for his fear of becoming a casualty, Charles does go to the front on at least two occasions, once on his own to a Battalion Aid station after he is nearly killed by a sniper, and another in which he attends to wounded at the Battle of Pork Chop Hill which actually occurred from March to July 1953 (which would explain the Arrowhead award). (The Life You Save)
Comparison with Frank Burns
[
]
Like Frank, Charles also occasionally has temper tantrums, most notably when he is outperformed in the OR:
High society connections
[
]
Charles' class consciousness also caused his bigotry to flare up on occasion, especially where his own family was concerned; in Bottle Fatigue, when his sister Honoria writes that she's marrying an Italian, Charles is incensed that a woman of Honoria's pedigree was marrying someone he deemed to be far below their family's social class. In a drunken stupor, Charles even goes so far as to write a handful of insulting letters home protesting the wedding. But later, when Charles receives another letter from Honoria saying that the wedding has been cancelled because the groom's family forbade him from marrying outside their faith, Charles thinking is jarred as he himself was being discriminated against. After a wounded North Korean POW very nearly sets off a hand grenade in the OR during surgery, Charles is humbly compelled to send Honoria a telegram warning her of the hateful letters and wishing he were there to share in the pain of her heartbreak.
But on at least one occasion, his class consciousness backfires on him: in U.N., The Night and the Music, the 4077th is visited by three United Nations delegates, including British doctor Randolph Kent, whom Charles automatically assumes to be from a high-class family. Charles continually compares his own tastes to Kent's, but to his growing annoyance, Kent outclasses him at every turn. Kent finally reveals that he developed an affinity for high society through his father's employer; his father was the butler for a wealthy family, and when Kent himself became old enough he hired on as their chauffer which financed his medical school. He puts Charles in his place when he sums up their whole parlay saying (in a Cockney voice), "You 'ave been outclassed by the son of a bloody butler!"
Another comparison to Frank is Charles' love of money. For all his affluence and family wealth, Charles never seems to balk at the opportunity to further pad his financial coffers, but each attempt to do so during his time at the 4077th fails. Examples include:
In contrast to Frank, Charles had superb medical skills, although initially he was not quite able to handle the more frantic pace of meatball surgery at a front-line unit. Added to which, Charles engaged in acts of generosity and compassion that Frank would never have done or even considered, although Charles often made it a point to keep his humanitarian side hidden from the others:
Relationship with others
[
]
Another contrast to Frank was that Charles had no interest in taking command of the 4077th, even when it fell to him via protocol in Potter's absence. When Charles replaced Frank as second-in-command, he took the position far less seriously- and far less literally, than Frank. On the rare occasion when Charles was left in command, he usually allowed the camp to go through its paces and let everyone have what they wanted just so long as Charles in return got what he wanted, which was usually either a personal favor or just time to himself, although the first time he was left in command (Tell It to the Marines), he went overboard on requisitioning luxury items for himself, referring to them as "basic necessities".
In addition, on occasions when Hawkeye was left in charge for varying reasons, once including his own insistence that he was not up to the task, Charles did not take offense. As such, Charles got along better with the others in camp, mainly because he was more soft-spoken than Frank, and never pulled rank or threw his weight around barking orders at everyone else just for the sake of doing so.
His Swampmates
[
]
At first, Charles marginally tolerated Hawkeye and B.J., deploring their personalities and personal habits, though he held B.J. in slightly higher regard for his own surgical skills, though he still disliked the fact that B.J. is from California.
Charles also tolerated most of Hawkeye and B.J.'s pranks on him, including hiding a rubber chicken in his teapot, and dressing him in a kilt and tutu while he was passed out in the Officers Club in Where There's a Will, There's a War, in which Hawkeye, while at an Aid Station under heavy fire, was writing his last will and testament; he made a bequest to Charles, writing:
"...You were the victim of a ceaseless stream of dumb jokes. Though we may have wounded your pride, you never lost your dignity. I therefore bequeath to you the most dignified thing I own: my bathrobe. Purple is the color of royalty."
Sense of humor
[
]
In contrast to his normally high-class tastes, Charles enjoyed occasional Tom and Jerry cartoons, Three Stooges and Ritz Brothers films (which he regarded as surrealistic), Captain Marvel comics, pralines and canned sardines.
Though he was often made the victim of Hawkeye and B.J.'s practical jokes, Charles was more than capable of giving as good as he got, engaging in a few potshots of his own on the others:
Charles also on occasion teamed up with some of the others to pull some masterful pranks.
In The Moon is Not Blue, when Hawkeye and B.J. go to great lengths to find a copy of the film The Moon Is Blue, a supposedly racy film that was banned in Boston, Charles futilely tries to advise them against it, saying that Boston would ban Pinocchio. (Hawkeye and B.J. actually get the film, but are greatly disappointed to find that the only sexual part of the movie is the mention of the word "virgin").
Finale
[
]
In Goodbye, Farewell and Amen, Charles encounters a group of five Chinese POWs who turn out to be musicians. as they are playing traditional music while they are being held at the 4077th. When Charles confronts them explaining that he is trying to listen to Mozart on his phonograph, the flautist begins playing the same piece on his flute, which seizes Charles attention. Delighted at the idea of other devotees of the classics in camp, Charles begins spending considerable time with the musicians trying to improve upon their performance. Later, Charles abruptly learns of a prisoner exchange, and all of the POWs are to be shipped out, including the musicians. Charles pleads for them to stay, but the MP sergeant coordinating the exchange refuses. As they are driven away, the musicians play the piece of Mozart that Charles had taught them.
Coming out of surgery several hours later, Charles handles triage when more wounded arrive; one is in grave condition from a prisoner truck hit by mortar fire. Charles recoils in horror when he sees that the wounded soldier is one of the Chinese musicians meant for the POW exchange. When Charles asks about the others on the truck, a medic informs Charles that he is the only one left. Charles sadly and bitterly remarks that he was a musician and not a soldier. Retreating to his tent, Charles attempts to find solace in a record of the piece he taught the musicians, but after only a few moments of listening to the song he wordlessly yanks the record off the phonograph and smashes it to pieces.
The armistice ending the war is signed soon after and at the 4077's last supper, Charles announces:
"I will be head of Thoracic Surgery at Boston Mercy Hospital, so my life will go on pretty much as expected— with one exception: For me, music has always been a refuge from this miserable experience... and now it will always be a... reminder."
With the 4077th breaking camp for the final time and everyone going home, Charles addresses Colonel Potter, informing him that he hopes that in his new position of authority that he will be "guided by the memory of [Potter's] wisdom and gentle good humor". Charles leaves the camp with Sgt. Rizzo in his last remaining vehicle: a garbage truck, which Charles whimsically accepts remarking, "What better way to leave a garbage dump!"
Quotes
[
]