Fred Williamson

Fred Williamson in 2011.
Personal Information
Gender:
Male
Born:
March 5, 1938
Birthplace
Gary, Indiana, U.S.
Occupation/
Career:
Actor/Athlete
Years active:
1960-present
Character information
Appeared on/in:
MASH (film)
Character(s) played:
Oliver Harmon "Spearchucker" Jones

Frederick "Fred The Hammer" Williamson (born March 5, 1938) is an American actor, architect, and former professional football player who played mainly in the American Football League (AFL) during the 1960s.[1][2]
Pro football career
[
]
After playing college football for the Northwestern Wildcats in the late 1950s, he was drafted by the San Francisco 49ers number two overall. When during NFL Training Camp he was switched to the defense, his attitude over the switch prompted him to play his position with too much aggression, the head coach of the 49ers, Frankie Albert, asked him to quit "hammering" his players. The quickly acquired the nickname "The Hammer", and that stuck with him for decades.
Williamson played one year for the Pittsburgh Steelers in the National Football League in 1960. Next, he moved to the new American Football League. Williamson played four seasons for the AFL's Oakland Raiders, making the AFL All-Star games team in 1961,1962, and 1963 . He also played three seasons for the AFL's Kansas City Chiefs.
Reputation as "The Hammer" during time with the K.C. Chiefs

[

]
During his period of playing for the Chiefs, Williamson became one of football's first self-promoters, nurturing the nickname "The Hammer" because he used his forearm to deliver karate-style blows to the heads of opposing players, especially pass receivers. Before Super Bowl I, Williamson gathered national headlines by boasting that he would knock the Green Bay Packers starting receivers, Carroll Dale and Boyd Dowler, out of the game. He stated "Two hammers to (Boyd) Dowler, one to (Carroll) Dale should be enough".[3] His prediction turned out to be an ironic one because Williamson himself was knocked out of the game in the fourth quarter, with his head meeting the knee of the Packers' running back Donny Anderson. Williamson finished his eight-season pro football career in 1967 with a history of many hard tackles, passes knocked away, and 36 pass interceptions in 104 games. Williamson returned his interceptions for 479 yards and two touchdowns. After a short period with the Montreal Alouettes of the Canadian Football League during the 1968 season, Williamson left from pro football, never to return.
Acting career
[
]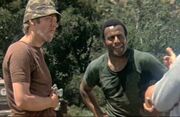 Following his retirement from football, Williamson decided that a career in architecture wasn't his calling and tried his hand as an actor, much in the mold of star running back Jim Brown. He also acted alongside Mr. Brown in films such as 1974's Three The Hard Way, 1975's Take A Hard Ride, 1982's One Down, Two To Go, 1996's Original Gangstas and 2002's On the Edge, along with guest starring with him in a handful of episodes of various television programs. Before Jim Brown did it in 1974, Fred posed nude for Playgirl magazine in the October 1973 issue. One of Williamson's early television roles was a part in The Cloud Minders, a 1968 episode of Star Trek, playing "Anka". Williamson also played Diahann Carroll's love interest in the sitcom Julia. In an interview for the DVD of Bronx Warriors, Williamson stated that the role in Julia was created for him when he convinced the producers that the Black community was upset that Julia had a different boyfriend every week.
Williamson's early film work included the role as "Spearchucker" Jones in M*A*S*H and the film Tell Me That You Love Me, Junie Moon. He also got to play, in 1973, an African-American mafia figure in Black Caesar and its subsequent sequel, Hell Up in Harlem. He is also noted for portraying "Boss Nigger" in the 1975 blockbuster hit, Boss Nigger. After this he appeared as an actor in several films, most of which are considered to be of the "blaxploitation" genre. In 1974 he starred alongside Peter Boyle and Eli Wallach in the movie Crazy Joe.
ABC's Monday Night Football

[

]
In 1974, he was selected ABC-TV as a commentator on Monday Night Football to replace Don Meredith, who had left (temporarily, as it turned out) to pursue an acting and broadcasting career at rival network NBC-TV. Williamson was used on a few pre-season broadcasts, but he was judged to be unsuitable by ABC. He was relieved of his duties at the beginning of the regular season, becoming the first MNF personality not to endure for an entire season. He was replaced by the fellow former player (and fellow Gary, Indiana, native) Alex Karras.
Present career
[
]
Since that time, Williamson has continued his career as an actor and director, appearing in the satirical-comdey film spoof of the 1970s ABC-TV crime action/drama television series Starsky and Hutch.
References
[
]