Jo Ann Pflug (born May 2, 1940) is a former American film and television actress, who retired in 1997.
Pflug's first major role was as U.S. Army nurse Lt. Maria "Dish" Schneider in the 1970 Robert Altman-directed original film version of M*A*S*H*. Other notable roles include the voice of Invisible Girl in the 1967 animated version of Fantastic Four, Lt. Katherine O'Hara in the television series spin-off of Operation Petticoat and Cynthia Vaughn in 1997's Midnight in the Garden of Good and Evil (her last role to date).
Pflug was also a frequent panelist on the television game shows Match Game from 1973–1981, a co-host with Allen Funt on the 1970s version of Candid Camera, and a regular on the TV series The Fall Guy in 1981-1982. In 1984, she was the first actress to play Taylor Chapin on the unsuccessful syndicated soap opera Rituals. According to Soap Opera Digest, Pflug's highly publicized departure from the burgeoning drama was because her role called for sex-related scenes involving characters not married to each other, which conflicted with her Christian beliefs.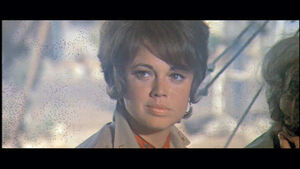 JoAnn also landed guest appearances on The Love Boat; The Dukes of Hazzard; Knight Rider ; Love, American Style; Adam-12; Quincy, M.E. and Charlie's Angels.
Pflug's married longtime television game show host Chuck Woolery in 1972 and divorced in 1980. They have one daughter, Melissa. She later married Charles Stuck Young.
Pflug is a 1958 graduate of Winter Park High School in Winter Park, Florida, a South Orlando suburb, as well as a graduate of the University of Miami in Coral Gables, Florida.[1] Her father, J. Lynn Pflug, was elected mayor of Winter Park the year that she graduated from high school.[1] A born-again Christian, she now tours as a motivational speaker.
When asked once whether Pflug was her real name, she replied: "Pflug is a name you change from, not to."
References
[
]
External links
[
]