Karen Philipp

Karen Philipp in the mid 1990s
Personal Information
Born:
September 7, 1945
Birthplace
Salina, Kansas, U.S.
Occupation/
Career:
Actress/Singer
Years active:
1963-1985
Spouse(s):
Pat Proft, 1981-present
Character information
Appeared on/in:
M*A*S*H
Episodes appeared in:
"PIlot" and "Germ Warfare" in Season 1
Character(s) played:
Lt. Dish

Karen Philipp a.k.a. Karen Philipp-Proft (born September 7, 1945) is an American singer and actress. She first came to national prominence in 1968 when she was hired as one of the two female vocalists in the second iteration of Sérgio Mendes & Brasil '66, debuting on their Top Ten best-selling album, "Fool on the Hill." She remained with Brasil '66 (and its successor group, Brasil '77) until 1972, when she left to play Lt. Dish in the first season of M*A*S*H.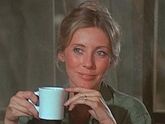 Though her role was written out of the series after only two episodes, she was featured in the opening credits of M*A*S*H for several years afterward. Philipp also had a Playboy pictorial in September 1972,[1] and she had a recurring role on Quincy, M.E. as Robin Rollin. She went on to marry comedian/actor and movie producer Pat Proft, with whom she had a son. They currently reside in Minnesota. Philipp was born and raised in Salina, Kansas. She and her longtime husband, comedian/sketchwriter/actor/producer/artist Pat Proft now reside in the Minneapolis, MN area.
See also
Edit
References
Edit
External links
Edit
Community content is available under
CC-BY-SA
unless otherwise noted.