This wiki is devoted to everything about M*A*S*H, from the Richard Hooker novels to the Oscar-winning 1970 Robert Altman film adaptation to the long-running, Emmy Award-winning CBS TV series.
Welcome to the M*A*S*H Wiki

Inspired by the 1968 novel "MASH: A Novel About Three Army Doctors" by Richard Hooker, and the 1970 Robert Altman film of the same name, M*A*S*H depicted the medical staff and personnel of the 4077th Mobile Army Surgical Hospital, a medical unit situated just a few miles away from the North Korean front near the town of Uijeongbu, .
Though the TV series started out as a situation comedy, it evolved over time into a comedy-drama hybrid which, while continuing to show how the members of the 4077th attempted to maintain their personal and collective sanity using humor and hijinks, increased the emphasis on the more horrific side of the Korean war- or, for that matter, any war.
Despite a rough start, M*A*S*H became highly successful with 256 episodes over eleven seasons, from 1972 to 1983. Except for seasons one and four, the series was a perennial top 10 favorite. Along the way, it earned 14 Emmy Awards, eight Golden Globes, a Peabody, and many other accolades for its writers, producers and actors. The series originally aired on CBS-TV from September 17, 1972 to February 28, 1983. The show still plays in syndication, most prominently on the classic TV subchannel MeTV.
January 5, 2006 - This wiki is created!
December 24, 2013 - Timrock adopts and takes ownership of the wiki, with many major changes, hundreds of new article pages created (from 50 to over 300+ within a six-month period) and a revamped main page.
Early 2015 - Wiki continues to grow, from approximately 300+ to 700+, with second major change to the main page.
September 14, 2015 - AndyC37 is granted admin rights, and contributes more changes, as the number of articles grow to over 950 pages, with another improvement to the main page.
March 29, 2017 - Since it's creation, this wiki has grown massively with the wiki growing to over 1,000 pages.
We are always looking to expand the contents and make improvements to this website... Hey! Why not help out, and contribute to this wiki! To write a new article, just enter the article title in the box below.
Not sure where to start?
External links/Featured Websites
(Season 1, Episode 12, originally aired December 17, 1972)
(written by Larry Gelbart; directed by Gene Reynolds)
With Christmas fast approaching, Hawkeye writes to his dad back home about the yuletide goings-on in camp, and also about his dangerous assignment flying into combat to tend to a wounded soldier while dressed as Santa Claus.
(This is the first Christmas episode of M*A*S*H, and the first of many "letter home narrative" episodes of the series.)

Variety: Val Bisoglio (Mess Sergeant Pernelli) dead at 95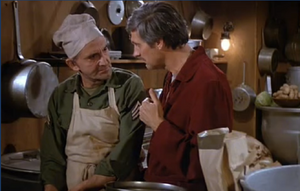 MeTV:
Mike Farrell beat out James Cromwell for the role of B.J. Hunnicutt.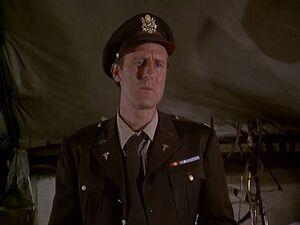 FOX News: Loretta Swit uses her time in quarantine to honor heroes: 'They are our lifeline'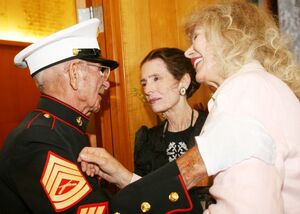 Kellye Nakahara, M*A*S*H's "Nurse Kellye, dead at 72.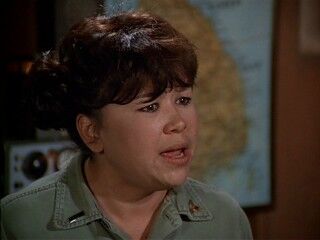 Cheatsheet.com:
'M*A*S*H': Why the Theme Song Was Supposed to Be 'the Stupidest Song Ever Written'
Twitter:
Facebook (M*A*S*H at TVLand page):