Robert Duvall


Robert Duvall originated the Major Frank Burns role in the 1970 Robert Altman film MASH.
Personal Information
Gender:
Male
Birthname
Robert Selden Duvall
Born:
January 5, 1931
Birthplace
San Diego, California, U.S.
Occupation/
Career:
Actor
Years active:
1952-present
Spouse(s):
Luciana Padraza (m. 2005-present)
Sharon Brophy (1991-1995, divorced)
Gail Youngs (1982-1986, divorced)
Barbara Benjamin (1964-1975, divorced)
Character information
Appeared on/in:
MASH 1970 film
Character(s) played:
Major Frank Burns
Robert Selden Duvall (born January 5, 1931) is an American actor and director. He has won an Academy Award, two Emmy Awards, four Golden Globe Awards and a BAFTA over the course of his career. He played the character Major Frank Burns in the 1970 Robert Altman directed 20th Century Fox film M*A*S*H* opposite Donald Sutherland ("Hawkeye" Pierce) and Elliott Gould ("Trapper" John McIntyre).
A veteran actor, Duvall has starred in some of the most acclaimed and popular films and TV shows of all time, among them The Twilight Zone, The Outer Limits, To Kill a Mockingbird, THX 1138, Joe Kidd, The Godfather, The Godfather Part II, MASH, Network, True Grit, The Conversation, Apocalypse Now, Tender Mercies, The Natural and Lonesome Dove. He began appearing in theater during the late 1950s, moving into television and film roles during the early 1960s in such works as To Kill a Mockingbird (1962) (as Boo Radley) and Captain Newman, M.D. (1963). He landed many of his most famous roles during the early 1970s with films like the blockbuster comedy MASH (1970) (as Major Frank Burns) and the lead in George Lucas' THX 1138 (1971). This was followed by a series of critically lauded performances in films which were also commercial successes: The Godfather (1972), The Godfather Part II (1974), Network (1976), The Great Santini (1979), Apocalypse Now (1979), and True Confessions (1981).
Since then Duvall has continued to act in both film and television with such productions as Tender Mercies (1983) (for which he won an Academy Award), The Natural (1984), Colors (1988), the television mini-series Lonesome Dove (1989), Stalin (1992), The Man Who Captured Eichmann (1996), A Family Thing (1996), The Apostle (1997) (which he also wrote and directed), A Civil Action (1998), Gods and Generals (2003), Broken Trail (2006) and Get Low (2010).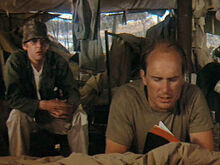 Early life and career
[
]
Duvall was born in San Diego, California, the son of Mildred Virginia (née Hart), an amateur actress and relative of American Civil War General Robert E. Lee, and William Howard Duvall, a Virginia-born U.S. Navy admiral.[1] [2][3] Duvall was raised in the Christian Science religion and has stated that while it is his belief, he does not attend church.[4] Duvall grew up in the traditional life of a career military family, moving frequently from military base to military base, living for a time in Annapolis, Maryland, near the United States Naval Academy. He attended Severn School in Severna Park, Maryland and The Principia in St. Louis, Missouri and graduated, in 1953, from Principia College in Elsah, Illinois. He served in the United States Army from 19 August 1953 to 20 August 1954, leaving as Private First Class. While stationed at Camp Gordon (now known as Fort Gordon) in Georgia, Duvall acted in an amateur production of the comedy "Room Service" in nearby Augusta, Georgia.
In the winter of 1955 he began studies at the Neighborhood Playhouse School of Theater in New York City under Sanford Meisner on the G.I. Bill. He was there for two years. Dustin Hoffman, Gene Hackman and James Caan were some of his classmates.[5][6][7][8] He was there in 1957 attending Meisner's classes.[9] While working to become an actor, he worked as a Manhattan post office clerk. Duvall is friends with actors Dustin Hoffman and Gene Hackman, whom he knew during their years as struggling actors.[10] In 1955, Duvall roomed with Hoffman in a New York City apartment while they were studying at The Neighborhood Playhouse School of the Theatre.[11]
References
[
]
External links
[
]