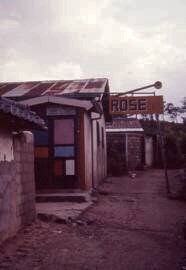 Rosie's Bar was a popular off-base watering hole for all G.I.'s stationed in the area of Uijeongbu, South Korea near the 4077th Mobile Army Surgical Hospital in both the 1970 film MASH as well as the CBS-TV series M*A*S*H. The bar was inspired from a similar waterhole named Rose's Bar, which actually existed in Seoul during the Korean War.
About Rosie's Bar
[
]
Rosie's Bar (which was actually titled Rose's Bar, like the actual) became an American household icon through the CBS television series M*A*S*H. Had it not been for this exposure, Rose's Bar would have probably just become a distant memory.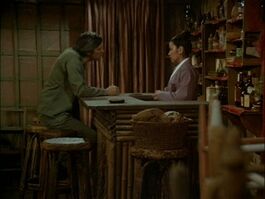 A diorama at Armed Forces History Museum is accompanied by audio and features Rose behind the bar serving a soldier who stops by for a drink and a little rest and relaxation. The sign outside the bar is a replica of the sign that hung outside this bar in Seoul, Korea. A brief write up of the history of the bar is mounted at the entrance to the diorama.
The story of "Rose's Bar" as inspiration
[
]
Rose's Bar, which gave inspiration to Rosie's, was a local watering hole in Seoul, Korea for US soldiers and other US troops in the area. Located down an alley just outside Camp Mosier, the area was a thriving district for local nightclubs during the Korean War. Once the American troops were pulled out, however, the area reverted to being mainly a residential area. Land development in the area later became difficult, which saved Rosie's Bar from being demolished.
Rose's Bar, which is down an alley just outside the front gate of Camp Mosier, recently was converted into several one-room apartments. Written material at the 2nd ID Museum states that the actual "Rosie", the bar's owner, moved to the United States after the base closed.
Residents say the area around Camp Mosier used to be a thriving nightclub district with the same atmosphere as Tongduchoen's Toka-ri, near Camp Casey, or Itaewan's Hooker Hill, near Yongsan Garrison in Seoul.[1]
References
[
]
External links
[
]