Tony Packo's Cafe is a hotdog restaurant in the Hungarian/Polish neighborhood of Toledo, Ohio, which was founded in 1932 and which still exists. It is one of Klinger's favorite places in Toledo and is referenced in several episodes of the M*A*S*H TV series.
In Season 4 "The Interview", Klinger tells his interviewer, Clete Roberts: "Incidentally, if you're ever in Toledo, Ohio, on the Hungarian side of town, Tony Packo's, greatest Hungarian hot dogs, with chili peppers, 35 cents, and a cold beer!"
In Season 6 "The Grim Reaper", Klinger and Private Danker exchange nostalgic memories of Toledo. Danker says he had his last Hungarian hot dog just three days before he shipped out for Korea (which was two weeks before he arrived at the M*A*S*H). Later, when Danker has been sent home, he sends Klinger some Hungarian hot dogs and chili peppers which he shares with Hawkeye, B.J., and Winchester.
In Season 7 "Dear Sis", Klinger relays to Father Mulcahy about his dream of "Christmas tree, 10 feet high. Strung with an endless chain of Paco's Hungarian hot dogs. And up on top, dressed like an angel, is my ex-wife, Laverne."
Season 8 "Dreams" features the only known visual of Tony Packo's in the M*A*S*H series. Here, Klinger falls asleep out of exhaustion and dreams that he is walking through the windswept deserted streets of Toledo. He looks through the shop window of Tony Packo's, but he only sees the Operating Room with Potter gesturing to him. The patient turns to look at him and he finds that the patient is himself.
In Season 9 "A War for All Seasons", Potter asks Klinger to send to Tony Packo's for some sausage casings which they use to make a dialysis machine.
The actual Tony Packo's restaurant exhibits memorabilia from M*A*S*H, including the prop box used for the sausage casings in "A War for All Seasons".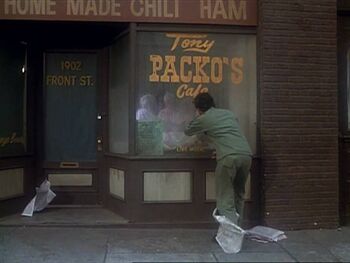 Community content is available under
CC-BY-SA
unless otherwise noted.